Filter Reviews
5.0 star rating

4.0 star rating

3.0 star rating

2.0 star rating

1.0 star rating
Great Shoes
Review by Leslie on 31 Jul 2020
review stating Great Shoes
These are everything I'd hope they'd be. I wear them for long shifts 100% on my feet in the banquet business. I wanted something cute and feminine without being flats (which are categorically uncomfortable). They are very pretty shoes, really, better than I thought they'd be. They look like a pump from the front, but the heel is low and comfortable without looking too old lady-like. They are much daintier than a clog which is what I needed to pair with a nice dress. There is a little heel rubbing when worn without socks so a band-aid or ballerina socks is needed, and there is slight discomfort after about ~6 hours on the pads of the foot from the slight heel (whereas gym shoes you get no problem), but with leather-like dress shoes a little something is expected. The pain is nothing debilitating and is worth it for a good, professional looking pair of dress shoes. I recommend them and would buy them again.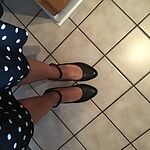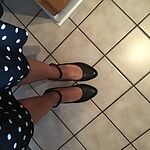 Beautiful shoe
Review by Melanie on 13 Feb 2021
review stating Beautiful shoe
Beautiful shoe, nice fit, comfort plus!!
Such a great shoe
Review by Amy on 4 Feb 2021
review stating Such a great shoe
This shoe is great if you want something a little bit dressier than the clog without sacrificing the comfort. I'm on my feet at work for 8 or more hours and the Shaylee holds up well
Not my style but they
Review by Wafaa on 15 Nov 2020
review stating Not my style but they
Not my style but they look nice had to exchange them
Alessandra
5.0 star rating
Beauty, style and comfort!
Review by Alessandra on 2 Nov 2020
review stating Beauty, style and comfort!
I couldn't believe all the hype, therefore I had to try it for myself. Pricey yes, but would they deliver all what was promised? Oh yes, and it is worthy every single penny. I feel like I'm walking on a cloud of luxury. Sofisticaste, comfortable right out of the box. I'm walking up and down the hill between two campuses, and I could not be happier.