Filter Reviews
5.0 star rating

4.0 star rating

3.0 star rating

2.0 star rating

1.0 star rating
Great Shoes
Review by Leslie on 31 Jul 2020
review stating Great Shoes
These are everything I'd hope they'd be. I wear them for long shifts 100% on my feet in the banquet business. I wanted something cute and feminine without being flats (which are categorically uncomfortable). They are very pretty shoes, really, better than I thought they'd be. They look like a pump from the front, but the heel is low and comfortable without looking too old lady-like. They are much daintier than a clog which is what I needed to pair with a nice dress. There is a little heel rubbing when worn without socks so a band-aid or ballerina socks is needed, and there is slight discomfort after about ~6 hours on the pads of the foot from the slight heel (whereas gym shoes you get no problem), but with leather-like dress shoes a little something is expected. The pain is nothing debilitating and is worth it for a good, professional looking pair of dress shoes. I recommend them and would buy them again.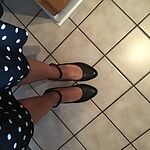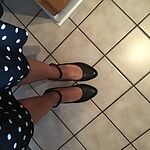 Super comfy for this teacher's
Review by Keslee on 16 Oct 2020
review stating Super comfy for this teacher's
Super comfy for this teacher's tired feet
BEAUTIFUL
Review by Eunice on 11 Oct 2020
review stating BEAUTIFUL
I love the way the shoes looks.
I am a little worry if the velcro
Is going to keep my shoe on my feet
or eventually it has will loose
Its strength.
I hate for that to happen an it could
cause an injury 🤷‍♀️Other then that i am happy with my shoes.
These Shoes Are Fabu
Review by Lynn on 2 Sep 2020
review stating These Shoes Are Fabu
Love these shoes. Stylin and comfortable. I have a pretty large bunion and the shoes don't seem to bother it. Love the color and the design. A definite winner
Maryjane
Review by Richard on 27 Aug 2020
review stating Maryjane
Beautiful in every way